$100 off Purchase of an Air Scrubber Air Purifier*
*Contact us for complete details.
AC Repair, Furnace Installation, Drain Unclogging, Water Heater and Plumbing Installation Services

Available in Charleston, Hurricane, Cross Lanes, WV and Surrounding Areas
As a leading name in heating, cooling and ventilation, E.J. Thompson & Son LLC has what it takes to tackle all your comfort needs. From outfitting your home with central air conditioning to servicing your plumbing system, you can always count on us. We're a family-owned and operated business that has been around since 1949.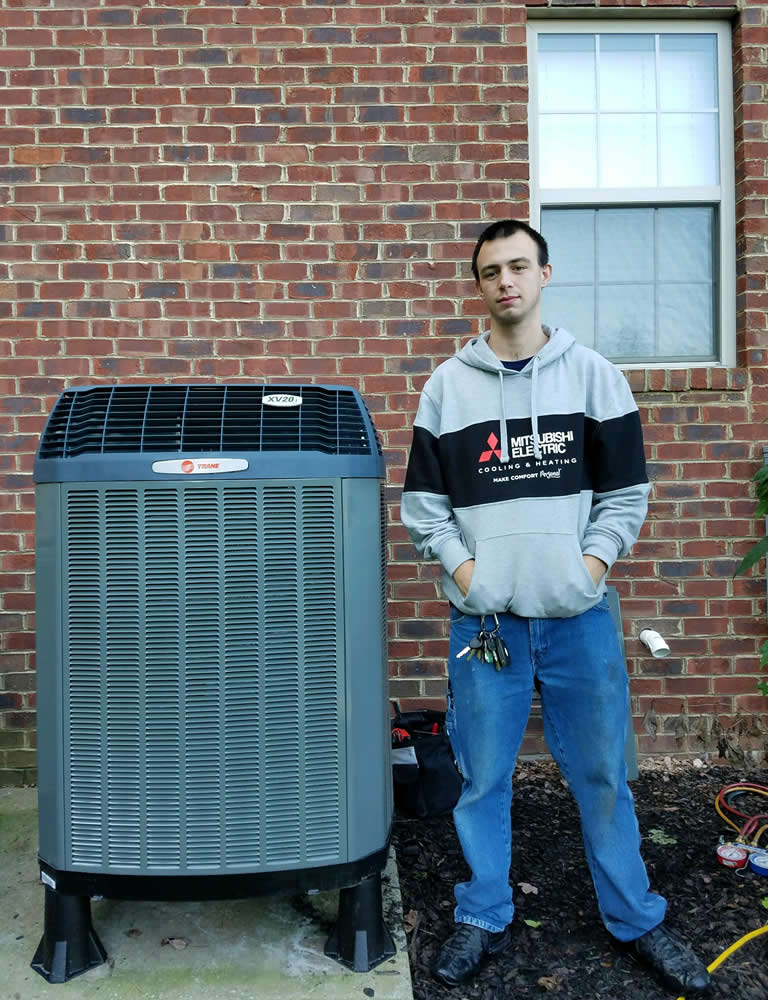 24/7 HVAC and Plumbing Services
To better serve our customers, we offer a wide and ever-expanding range of high-quality HVAC and plumbing services and systems. As full-service climate control specialists, we can swiftly resolve any residential or commercial HVAC problem you might encounter. Our full line of professional HVAC and plumbing services include the following:
Air conditioning repair, replacement and installation.
Heat pump repair, replacement and installation.
Furnace repair, replacement and installation.
Boiler repair, replacement and installation.
Geothermal repair, replacement and installation.
Ductless mini-split repair, replacement and installation.
Indoor air quality devices and duct cleaning.
Air duct installation and repair.
Controls and thermostats.
Light commercial HVAC repair, replacement and installation.
Plumbing repair, installation and drain unclogging.
Tank and tankless water heater repair, replacement and installation.
Choose E.J. Thompson & Son LLC
When you put your trust in E.J. Thompson & Son LLC, rest assured your comfort is in great hands. We have a team of well-trained service technicians with the technical expertise to handle any HVAC or plumbing problems. We're serious about doing quality work, but we're just as committed to customer service. We strive to exceed expectations every time you pick up the phone. Here's why customers love us:
We've been family-owned and operated since 1949.
We offer a 100% Performance Guarantee for all Trane HVAC installations.
We offer a one-year guarantee on HVAC repairs.
We provide the best products and services at a reasonable price.
We're a Trane Comfort Specialist.
We'll enhance your quality of life by improving your comfort.
SERVING CROSS LANES, WV AND SURROUND AREAS SINCE 1949
Air Conditioning Services
When the summer heat is just too much to bear, we can help you keep your cool. Our skilled service technicians can install or replace your AC system using top-quality equipment. If your system breaks, we can deliver timely air conditioning repairs.
Boiler, Furnace, Heat Pump and Geothermal Services
If your home isn't warm and welcoming in the winter, call our heating experts. Our service technicians have the training and experience to design tailored heating systems, install new heaters and replace outdated equipment. We respond promptly when you need heating repairs, using quality parts to fix any brand or type of system.
Indoor Air Quality Solutions
If you don't think indoor air quality is a concern in your home, you may need to think again. From dust and pollen to chemicals and other compounds, airborne pollutants can be found nearly everywhere. We have the IAQ solutions you need to eliminate them.
Air Duct Installation, Repair and Cleaning
Our service technicians specialize in working with ducts. We can complete your air duct installation, repair or cleaning to ensure the arteries of your HVAC system work well.
From water heater installations and repairs to drain cleaning, we offer all the plumbing services you need to enjoy clean water. We'll take good care of your pipes.
Light Commercial HVAC Services
We combine years of experience, specialized knowledge and premium equipment to offer a full range of cost-effective light commercial HVAC services.
call to schedule an appointment today